Women's plain knitted knee length socks.
Composition: 95% zero cotton, 3% polyamide, 2% elastane.
Polyamide reinforced toe and heel.
Machine linked toe.
"Lycra covered" elastic cuff.
Item for all year round
ZERO COTTON, namely ZERO PILLING, socks. These socks are ideal for women who love being comfortable and sporty: very practical to wear also inside your boots.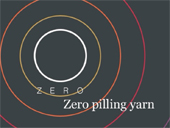 In addition to those displayed, you can choose among the colours included in Filmar "zero cotton" card.

Card: navy blue, black.